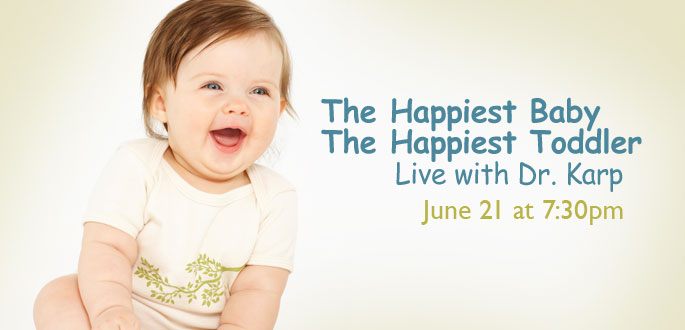 Want to know the secret to a happy baby and toddler?Learn from America's #1 Pediatrician on June 21!
Last updated: 6/5/2012 2:38:29 PM
Happiest Baby & Happiest Toddler with Dr. Karp
Thursday, June 21, 2012 at 7:30pm in the YC Performing Arts Center
For the first time ever, America's #1 Pediatrician, Dr. Harvey Karp takes his renowned and groundbreaking parenting solutions to the big screen for every expecting parent, mother, father, grandmother or nanny! NCM Fathom and BabyCenter are partnering to host a "Parents' Night Out" where Dr. Karp and confirmed celebrity host, Ali Landry, will help families nationwide discover how they can have "The Happiest Baby on the Block" and "The Happiest Toddler on the Block" using all his breakthrough techniques! Based on the #1 parenting DVD's and NY Times best-selling books that have sold millions of copies worldwide, Dr. Karp navigates parent challenges all the way from newborn to 5 years – calming fussy babies in seconds, taming tantrums in minutes, and tackling sleep strategies to send children off to dreamland peacefully.

Funding from First Things First has enabled us to offer a limited number of tickets at no cost. Parents of children aged birth through 5 who'd like to take advantage of this scholarship opportunity should contact the Del E. Webb Family Enrichment Center on the Yavapai College Prescott Campus at 928-776-2111 or stop in between the hours of 8:00am and 5:00pm, Monday through Friday.
For more information visit this events page on the YCPAC website.
---
News Archives »